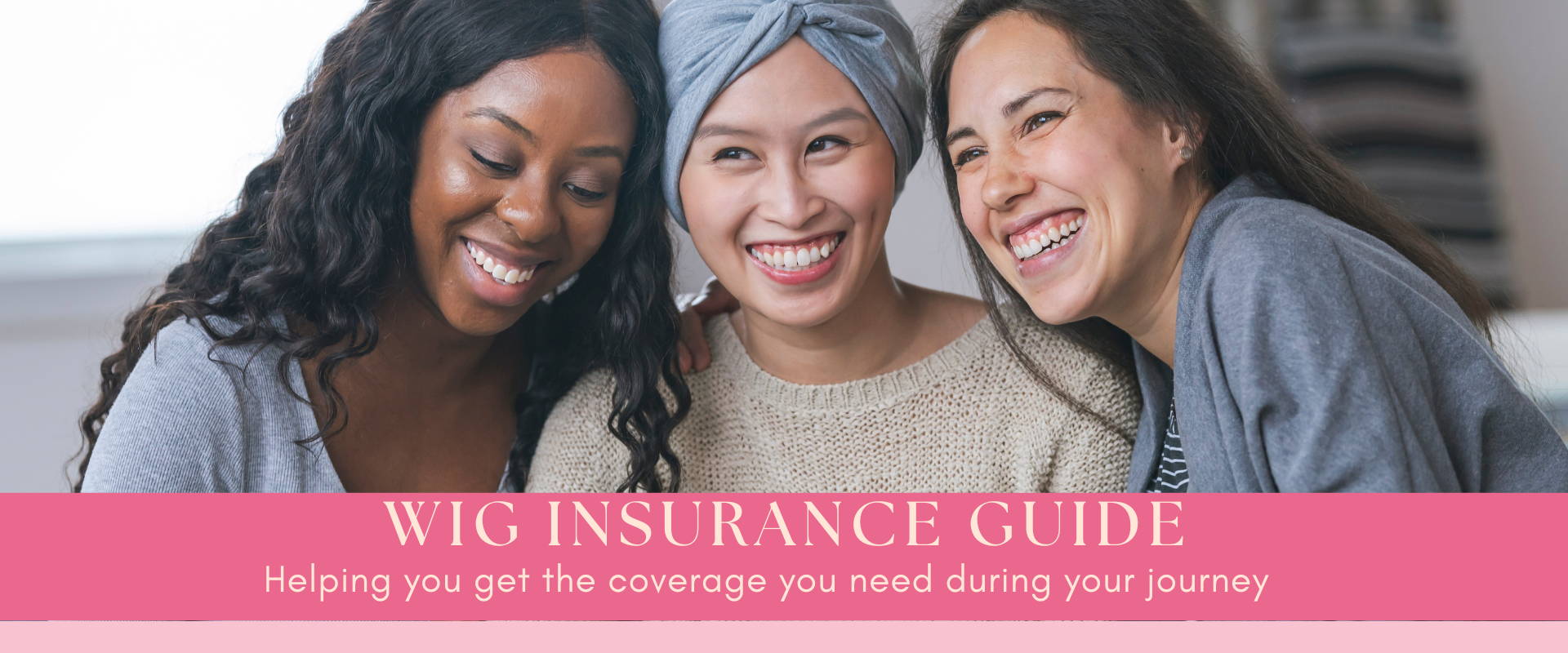 HOW TO GET YOUR WIG COVERED BY INSURANCE
Navigating the complex landscape of cancer can be a profound personal journey. We understand that facing cancer is not only a physical challenge but also an emotional one. Is is in this spirit of understanding and support that we provide you with essential information on obtaining insurance coverage for wigs during your or your loved one's cancer treatment.
The experience of hair loss during treatment can be a deeply personal and often emotional aspect of the journey. We recognize that a wig can offer not just physical comfort but also the emotional boost needed during this time.
Our mission is to assist you in making this process as smooth and manageable as possible. Within this guide, we aim to provide you with clear and professional guidance on the steps, requirements, and strategies for potentially securing insurance coverage for a wig. Whether your a patient or a caregiver, we want you to feel supported and empowered throughout this process.
Please explore this content at your own pace, if you have any questions do not hesitate to reach out to our professional team. We are hear to assist you in every way we can. In the face of this challenge, we wish you strength, courage, and the comfort of knowing you are not alone on t his journey.
DOES HEALTH INSURANCE COVER THE COST OF YOUR WIG
Health insurance coverage for medical wigs can vary depending on your specific insurance policy and the reason needing the wig. If your experiencing hair loss caused by chemotherapy, alopecia, or any other medical conditions related to hair loss its most likely that your insurance can cover the full or partial cost of your cranial prosthesis. Its important to remember that coverage varies, and there is no guarantee that your insurance will cover the full cost of a medical wig. To ensure the best chance of coverage, it is advisable to consult your health care provider and possibly medial billing specialist who can help you navigate the insurance process effectively. Always contact your insurance company directly to inquire about your specific policy coverage and requirements.
Your medial wig coverage depends on your insurance plan. It is possible to receive full or partial payment for your cranial prosthesis. However please be advised that some insurance companies will require you to pay upfront and they reimburse you or they will cover all costs for you. We are currently not listed as providers so we cannot bill your insurance directly. In order for construction to begin we require a deposit up front. After payment is completed, we will give you a sales receipt that you will be able to submit to your insurance company for reimbursement of your purchase. We can adjust your sales receipt or invoice you will submit to your insurance company for reimbursement with the correct CPT code that your insurance company requires.
If there are no providers you wish to proceed with in-network, some insurance companies will allow you to go or use out-of-network benefits as in-network benefits. When speaking with your insurance provider ask them if you have this option under your plan.
It is strongly advisable to get a prescription from your doctor in order to boost your chances of your reimbursement claim. Explain in detail to your doctor that you will need a written prescription for a CRANIAL PROSTHESIS and not just a wig for insurance! If they know the CPT code your insurance company needs, ask them to please include it on your prescription. Obtaining this prescription for insurance purposes only isn't required to have a custom wig made by Fingaz Beauty.
In the event that you are denied coverage, you can appeal it. We highly suggest writing a letter to your insurance company stating the emotional side effects you have experience with hair loss and how it has impacted your daily life.
Commonly used CPT codes for reimbursement are:
-A9282 " Wig, Any Type, each"
-D5924 "Cranial Prosthesis"
-S8095 "Cranial Prosthesis"
Most insurance companies will cover the cost of your full cranial prosthesis by 75%-100%. Some will allow one cranial prosthesis per year for medical hair loss. In some cases, the cost of medical wigs may be tax deductible, if your medical bills exceed 7.5% of your income. You should still discuss this with your CPA. Keep in mind that in default policies, the Standard List of Exclusions prohibits coverage for wigs. If this happens, you can also ask your employer's human resource department to renegotiate your contract to include cranial prosthesis coverage, if you have secondary insurance, contact your broker to do the same.
WHAT IS A CRANIAL PROSTHESIS
A cranial prosthesis is a custom made wig specifically designed for individuals who have experienced hair loss due to
medical conditions or treatments such as chemotherapy, alopecia, alopecia totalis, alopecia areata, and trichotillomania.
Unlike regular wigs, which are primarily worn for aesthetic reasons, cranial prosthesis serve a medical purpose.
Its important to know terminology when applying for your insurance claims and tax deduction status.
Other terms used include cranial hair prosthesis, hair prosthesis, and full cranial prosthesis.
Contact your insurance benefits department and gather the following information.
Does your policy cover cranial prosthesis?
If so, what type of of cranial prosthesis is covered (human hair, synthetic, ect)?
What is the cost percentage they cover?
What specific terminology should be included in the prescription?
Is there required documentation needed to submit for your claim?
If you don't see cranial prosthesis listed on your insurance policy, call your insurance company and get preauthorization.
Get a prescription from your doctor for CRANIAL PROSTHESIS. Make sure that your using the correct term and not a "wig".
Using the term "wig" on the prescription may disqualify you
as the term is used as a cosmetic and not medical.
Include the correct code that you will need such as code A9282.
By having your doctor write a letter will strengthen your claim as your doctor can express the emotional effects of losing
your hair due the medical treatment needed. Your doctor
can explain the hair loss and emotional and damaging effects it can have on recipient,
as well as explaining that your cranial prosthesis is not used for cosmetic reasons, but for
your emotional well being.
Keep all invoices and documentations for your tax purposes. And consult with your tax advisor or CPA about any possible deductions.
After placing your order with Fingaz Beauty for your Cranial Prosthesis, let us know if you need a copy or revised invoice for your prescription
We will provide you with the invoice containing he correct code as well as our Tax ID number
Send all documentation to your health insurance provider and include the completed insurance claim form,
prescription & letter from your doctor, invoice from Fingaz Beauty and any other forms necessary.
What To do if your Insurance Won't Cover the Cost
Option 1
If you end up paying for the unit yourself, save all receipts and use as a possible tax deduction. Your unit may be tax
if your medical bills exceed 7.5% of your income
Option 2
Talk to your doctor or social worker about financial assistance programs to help you with your purchase.
Call the National Alopecia Areata Foundation, The American Cancer Society, and all other foundations related to
your condition.